In this article:
Check your Bluetooth connection
The powerpoint isn't close enough to my sensor(s)
If you cannot establish a Bluetooth connection between the sensor(s) and the plug, this is because they are too far away from each other or there are too many obstructions between the sensor(s) and plug. There are a few different ways to approach this problem.
Check your Bluetooth connection
The sensor and plug communicate via Bluetooth, so it's important that they are within range of each other to establish the connection. You can check the strength of your sensor's Bluetooth connection by selecting the sensor from the Devices view in your Powersensor app.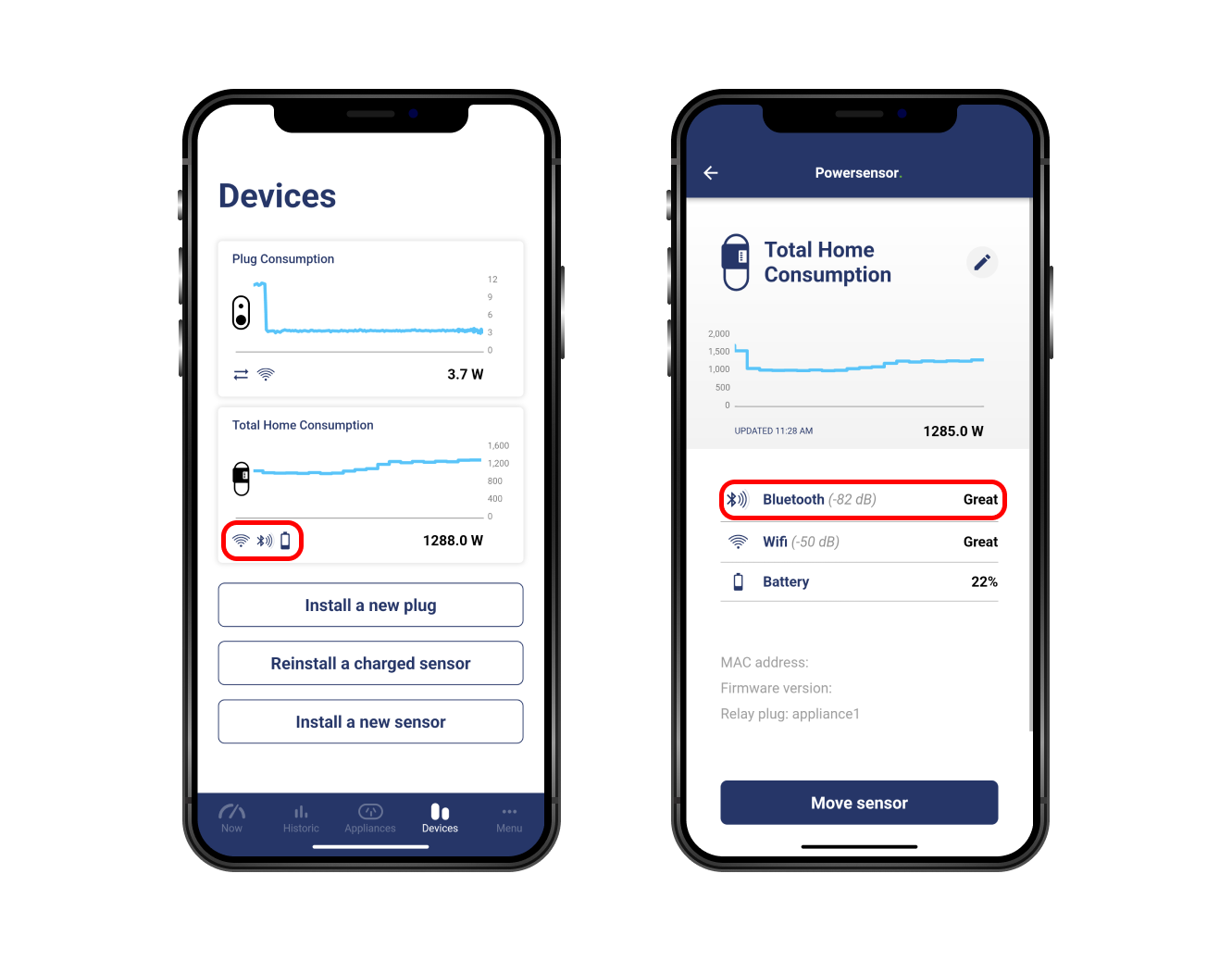 Go into your Devices view in the Powersensor app and select a device to check its Bluetooth connection
Tapping on a device (sensor shown in example above) will show a number of metrics and in this case we are interested in the Bluetooth signal strength.
A Bluetooth signal strength of -90dB or better is generally good enough,

a signal strength between -90 and -95 can also work however will depend on the local environment,

anything below -95dB is generally poor
Actual wireless performance is always difficult to predict and depends on many things - distance, whether there is a noisy environment, how many walls between the devices and what they are made of, ect.
The simplest approach is to try it in a location and see whether it performs,
Moving your plug
If one or more sensors have a poor Bluetooth connection, you will need to move your plug into range. Find a powerpoint that is within the aforementioned range of the sensor (or of both sensors if you have an Advanced Solar Solution) that has an appropriate appliance nearby.
Please note that when a sensor loses Bluetooth connection, it backs off its communication efforts with the plug in order to conserve its battery charge level. If your Bluetooth connection has been poor for a while, it may take up to two hours for the plug and sensor(s) to start communication again. Be sure that you give the sensor adequate time to reestablish communication if you have recently moved your plug to a closer location.
The powerpoint isn't close enough to my sensor(s)
If there is no powerpoint with an appliance of the appropriate load near enough to your sensor(s), you simply need to use a second WiFi plug as a 'gateway' plug. The gateway plug does not have to be attached to any appliances, it just needs to be within Bluetooth range of your sensor(s). You can purchase additional plugs through Reduction Revolution.